Rapid Entry Program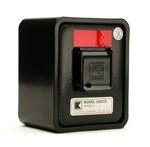 In order to access buildings quickly, minimize forced entry damage, and protect EMS/Firefighters from injury, we have adopted the Knox-Box Rapid Entry System.  Currently, more than seven thousand fire departments and the communities they protect enjoy the benefits of this proven system.
 Do you have buildings or property within West Licking Joint Fire District's area that are secured by locked doors or a gate?  You can prevent unnecessary damage to your property in the event of an emergency by participating in this program.  The Knox-Box system can give the Fire Department emergency access while giving you peace of mind that your property is secure.  The Fire Department has invested in this system.   All new businesses are required to install a Knox-Box and it is recommended for residential homes to install one, especially senior citizens.   How the System Works
Knox-Boxes are constructed of ¼" solid steel with a ½" steel door, a reinforced locking mechanism and they are UL listed.  The high security key is strictly controlled and is manufactured only by the Medeco factory under direction from an authorized fire official's signature.  For more information or to order a Knox-Box online, please visit: www.knoxbox.com.  
**Note:  WLJFD recommends purchasing the Knox-Box 3200 series for commercial use, with a hinged door.
When the Box Arrives
When the new Knox-Box arrives, the property owner installs it on their building after consulting with the Fire Inspector.  The property owner then prepares a master set of keys to the building(s) to be placed in the box.  When the owner is ready, the Fire Inspector and property owner secure the building keys inside the Knox-Box.  The fire department can then access the Knox-Box and the master keys to the building in the event of an emergency.
For questions or to schedule the placement of the Knox-Box, contact the Fire Prevention office at (740) 927-3046.