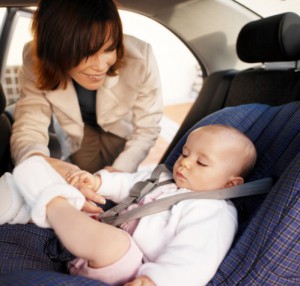 In an effort to help reduce possible injury and/or death to children in vehicles, West Licking Joint Fire District conducts vehicle safety seat inspections for District residents. Inspections may range from installation assistance of a new car seat for expecting parents, to educating parents on the general guidelines of installing various types of car seats along with the appropriate age groups associated with the proper child safety seat.
Car Seat Technicians attend a 32-hour class which educates them on the various types of car seats, installation guidelines along with the rules and regulations regarding car seat safety.   Currently, the West Licking Joint Fire District has two (2) Certified Passenger Safety Technicians, with plans to add additional technicians by offering a technician class in October 2012.  
 For questions, comments, or to schedule a Child Safety Seat Inspection, contact the District office at (740) 927-8600.
Additional car seat safety information may be found at the following sites:
   Assistance in finding other Child Safety Seat Inspection locations go to:  www.Seatcheck.org  
   For specific Child Safety Seat information go to: www.cpsafety.com 
   To register your car seat regarding recall notices, udpates and other vehicle safety tips, visit: www.nhtsa.gov