Mission Statement: 
West Licking Joint Fire District's Fire Marshal Bureau strives to provide a safe environment for all of the Fire District's citizens – whether it is safety for your children while they are in school or at play, adults in the workplace, sporting events, or even while you are out doing your grocery shopping. We feel one of the best ways to provide safety for the Fire District's citizens, is to prevent hazards before they happen.
Remember to change the batteries in your smoke detectors with the time change!
West Licking Joint Fire District has a very dedicated Fire Marshal Bureau. It is composed of three Marshals: Chad Harrison, Doug White and Fred Hughes. Together, they have over 60 years experience in the fire service. The Fire Marshal Bureau offers many different services which include, but are not limited to: fire investigations, fire prevention, Fire Code enforcement (both new and old construction), and public education.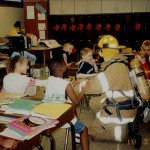 Through the generosity of the West Licking Firefighters Association and West Licking Women's Auxiliary, a very important teaching tool was donated to the Fire District – a Fire Safety House.  The Fire Safety House is taken to the Fire District's elementary schools to teach young children about the importance of fire safety – one of WLJFD's primary goals.
West Licking Joint Fire District has adopted the Ohio Fire Code. You can review the Fire Code at www2.iccsafe.org/states/ohiofire/ or go to the Ohio Fire Marshal's website, www.com.state.oh.us/SFM/fmce/.