The daily life of a West Licking Firefighter is filled with training, chores and always responding as soon as the tones drop.
West Licking Fire District (WLFD) consists of three separate shifts which are categorized as 1, 2, and 3 Unit. Each shift is staffed with one (1) Battalion Chief, one (1) Captain, six (6) Lieutenants, 16 Full-Time Firefighter/Paramedics along with the possible Part-Time Firefighter. A shift begins each morning at 7:00 a.m., and ends at 7:00 a.m. the following day. The Firefighters work 24-hours on duty and then off-duty for 48 hours.
At 7:00 a.m. the oncoming and off-going shifts hold roll call to exchange WLFD news and events. After roll call, the on-duty shift starts the day off by checking the emergency vehicles. Daily truck checks include a thorough safety inspection of the vehicles' fluids, brakes, and emergency lights and sirens. They also inspect and operate all of the equipment and tools carried on the vehicles to ensure proper function, and maintain proficiency. Any necessary repairs/cleaning of the vehicles and equipment are performed at this time. Next, they clean the living areas of the station. These activities usually take up a majority of the firefighters' morning.
WLFD Firefighters are cross-trained as Paramedics. A paramedic goes through an initial training which excceds 1,000 hours. To maintain proficiency, each paramedic participates in nearly 100 hours of annual continuing education.
Throughout the day, firefighters train on possible scenarios. The trainings allow the WLFD Firefighters to operate efficiently as a team and learn new techniques. The trainings cover all aspects of fire, rescue, and emergency medical operations.
WLFD, along with the help of the Firefighters' Union, has equipped each station with an exercise room containing state-of-the-art physical fitness equipment. The firefighters are encouraged to participate in daily physical fitness activities.
After 4:00 p.m., the firefighters have what they call down time. This down time remains until 7 a.m. the next morning. During this down time the firefighters can relax, watch television, etc. but first and foremost throughout their 24-hour shift, they must remain ready to respond to any emergency.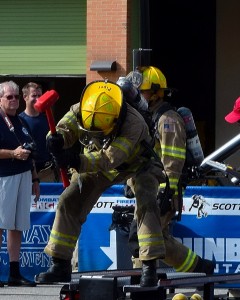 Watch the WLFD Combat Challenge Team compete.
https://www.youtube.com/channel/UCpa1F11u-Lh-vUBC_EOU-jQ
Watch this amazing video    Paul Harvey "Fireman" At his BEST he tells what it's like to be a firefighter.