DID YOU KNOW?!?!?…..
that National CPR week is June 1st – 7th?! We are celebrating this event by holding CPR sessions.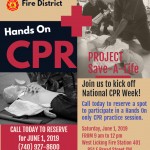 We will kick off the event on Saturday, June 1st with a Hands On Practice and Information session from 9 AM to Noon. Call the District (740-927-8600) to secure a time. Gain confidence and experience by practicing with a CPR mannequin under the supervision of one of our certified CPR Instructors.
We will also celebrate Project Save-A-Life by holding two (2) CPR Certified Classes. The first class is scheduled for Tuesday, June 4th from 9 AM to Noon. The final class is set for Thursday, June 6th from 6 PM to 9 PM. Click here to register for the Tuesday AM or Thursday PM session.